BMX Freestylers provides Red Ribbon Week School Assemblies in the state of California CA for Elementary & Middle Schools
School assemblies should ALWAYS be exciting an memorable. Treat your students to a high energy, super exciting BMX school assembly. BMX Freestylers will show up at your school with X Games style ramps, a BIG sound system, and top-notch RESPONSIBLE team riders. Our riders will perform for your entire school making this the best assembly your students have ever seen. Your girls and boys will enjoy the high-flying BMX stunts and be more attentive to the important messaging from the team as a result.

DISCLAIMER: This assembly includes crowd-pleasing and fun participation that will make your students laugh and learn at the same time. If this is ok, then we're ready to work with you. For over 30 years this assembly has been a school favorite especially because WE CHECK ALL THE BOXES regarding educating students about living a drug free healthy lifestyle. Our BMX Red Ribbon Week assemblies may also qualify for many Grants. PTA's and PTO's win big when they choose the BMX show as a featured assembly for Red Ribbon Week.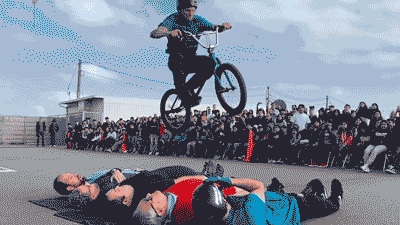 BOOK WHILE SPOTS ARE AVAILABLE
Year round Availbility
Questions You just may be looking for answers to Red Ribbon Week School Assemblies
BMX Freestylers If you do not see the answer to your question below please contact us right away at (657) 345-4603 we will answer it personally.
Answer is:
We are very comfortable with 600 people in one school assembly. 300 on each side. However "by choice" some schools will break lower grades up into two assemblies because of age difference and the announcer can alter how the messages are deliver based on age differences. This decision is yours. Each additional assembly is $200.
Answer is:
Once our team arrives on the property, setup and takedown can be done in 15 minutes. Having the area clean and any access gates open can make the process much smoother. We also encourage having a power cord extended out to the area if possible as a backup. However, all our team have their own power cords and in some cases electric generators.
Answer is:
Yes! We like to make sure all the paperwork is handled as soon as possible to avoid any delays in processing the checks. If you can provide us with a direct contact within the district staff that handles purchase orders, we can do all of the processing work for you.
Answer is:
Every school can choose what's appropriate for them. Most of the schools we visit have the students sit on the pavement. Others choose to have the students bring their chairs out to the area. You can get a better idea by going to our website http://funassemblies.com where there are photos of how students are seated.
Answer is:
When we are doing multiple school assemblies at your school, we suggest leaving approximately 20 minutes between assemblies for students to clear and arrange for the next group.
Answer is:
YES! In fact - if you send us photos, testimonials, and or video of your assembly, we will create a FREE WEBSITE page for your use on your social media and the schools website.
Answer is:
Performing the BMX Assembly in the rain obviously is not possible because of safety and students getting wet. We are flexible with rescheduling as long as the assembly is rescheduled. If possible, the show can be moved into an indoor facility like a Cafeteria or gymnasium. We of course will make adjustments for the size of the space or the amount of shows. Because "tours" within the same district/area lower our costs and help us provide you an affordable price, maintaining our schedule is a high priority for us.
Answer is:
All the BMX Freestylers Dream Team assemblies have professional sound systems as part of the show. The teams also have power cord extensions for power within 150 feet.
Answer is:
Yes! Our riders have performed at over 3,000 schools so far with a large percentage having powerful messages regarding anti-bullying.
Answer is:
Our Bullying school assemblies run 40 minutes in length. The messages are done in segments during that time span.
Answer is:
Students are seated on both sides of the performance area in a fashion similar to watching a basketball or tennis game. Many schools have students sit on the ground and or bring chairs. Standing is an option. However, the audience can get tired/restless standing so we encourage sitting.
Answer is:
We would like a hard surface like pavement or concrete area.. the size is flexible however idea size is 40 by 120.. same size as a basketball court.
Answer is:
If you would like to request a date to at least have an account to work with, it does not hold you accountable until we both agree to book the date... It just makes it easier to communicate dates.
Answer is:
Every school or client receives an invoice upon approval of the date and time. That invoice serves as a contract. If the event holder needs additional contracts with signatures, the request can be sent to 8585 Via Mallorca #9 La Jolla CA 92037.
Answer is:
We prefer not to perform on grass. Although in a "must do" situation, we will accommodate. It is not recommended, however. A hard surface, concrete, pavement, hardwood basketball courts, tennis courts all work much better.
Answer is:
Generally we can work around cracks and uneven spots. The riders will do a survey of the area upon arrival. If uncertain about your area, please send us photos showing the area in question to admin@bmxfreestylers.com We can review the photos and provide feedback.
Answer is:
YES... We are consistently being called upon to be part of tobacco, vape, or drug awareness campaigns. We are a part of the T.U.P.E. program in California.
11/17/2023
Sunset Elementary
Coalinga, CA
Cambria
---
11/16/2023
Gabriela Mistral Elementary School
Mountain View, CA
Hadas
---
10/27/2023
Hope Elementary
Porterville, CA
Joanie
---
10/27/2023
Kerman FLoyd Elementary
Kerman, CA
Danielle
---
10/25/2023
Vista Elementary
Simi Valley, CA
Desiree
---
10/24/2023
Temecula Valley Charter School
Winchester, CA
Charity
---
10/24/2023
Nuview Elementary
Nuevo, CA
Rusti
---
10/12/2023
Meridian Elementary
El Cajon, CA
Dianna
---
10/11/2023
West Putnam
Porterville, CA
Traci
---
8/18/2023
Tovashal Elementary
Murrieta, CA
Leah
---
6/15/2023
Hawthorne Elementary School
Ontario, CA
Victoria
---
6/2/2023
Montebello Gardens Elementary
Pico Rivera, CA
Diane Cervantes
---
5/31/2023
Olive Drive Elementary
Bakersfield, CA
Michelle
---
5/26/2023
El Cerrito Elementary
La Habra, CA
Emily
---
5/25/2023
Empire Academy
San Bernardino, CA
Carmela
---
5/25/2023
Arroyo Seco School
Livermore, CA
Valerie
---
5/22/2023
Ocotillo Elementary
Palmdale, CA
Dionne
---
5/19/2023
Walnut Grove Elementary School
Pleasanton, CA
Kristina Brown
---
The formula is simple...
The formula is simple and it's the same one used for years on television and all media platforms.

Use Celebrity to Influence an Audience and BOOM!... Deliver Your Message.

Educational Messages & PERSONAL development
Appropriate for: Academy 's, Catholic School's, Charter School's, College Campus's, Elementary's, Forth Grade's, Grade School's, High School's, Jr. Sr. High School's, Junior high School's, Middle School's, Primary School's, Seconday School's
Power Packed Messages:

Red Ribbon Week must include a fun assembly like a BMX show
We even have Red Ribbon Week posters available
BMX Show is the best idea yet to celebrate Red Ribbon Week
Anti-Bullying / Cyber-Bullying
Personal Development:

Teaching Kids to Be Authentic and Always Genuine
The Importance of Education & Decision Making
Never Settle, Always Seek Improvement, Work Hard
The Power of Being a Great Listener, Soak Up Info
QUICK FACTS ABOUT OUR Red Ribbon Week School Assemblies
Team Will Arrive One Hour Prior to Start Time
Notifications and Preparations Guides
Exciting Stunts Performed Safely
Educational Messages with Impact
Set Up Time Only (15 to 20) Minutes

100% Guaranteed or Your Money Back!
Riders are Professional Role Models
Scheduling is Super Duper Simple!
Our Management Has 30+ Years Experience

Professional Ramps & Sound Equipment

Years of Experience Speaking to All Demographics
LOCATIONS BMX Freestylers
FLORIDA ASSEMBLIES

Florida - YES! We can !
Georgia - All cities & counties
North Carolina - YES! We can
South Carolina - YES! We can
TEXAS ASSEMBLIES

Texas - YES! We can !
Oklahoma - YES! We can
Louisiana - YES! We can
ARIZONA ASSEMBLIES

Arizona - YES! We can !
New Mexico - YES! We can
California ASSEMBLIES

California - YES! We can !
Arizona - All cities & counties
Nevada - All cities & counties
MASSACHUSETTS ASSEMBLIES

Massachusetts - YES! We can !
Rhode Island - All cities & counties
Connecticut - All cities & counties
New Hampshire - All cities & counties

New York - All cities & counties

New Jersey - All cities & counties

Pennsylvania - All cities & counties

Click the button below and we will lead you through a simple booking process to bring this high flying, super exciting, educational Red Ribbon Week School Assemblies to your School.
BOOK WHILE SPOTS ARE AVAILABLE
Year round Availbility
Key words: Red ribbon week 2019 red ribbon week ideas red ribbon week assembly red ribbon week activities red ribbon week poster ideas red ribbon week slogans
What is Red Ribbon Week This Red Ribbon Week school assembly will be a great addition to your school Red Ribbon Week activities. This history of Red Ribbon Week began with Enrique (Kiki) S. Camarena was born on July 26, 1947, in Mexicali, Mexico. He graduated from Calexico High School in Calexico, California in 1966, and in 1968 he joined the U.S. Marine Corps. After serving in the Marine Corps for two years, Kiki was a Calexico fireman, Calexico police officer, and an Imperial County Deputy Sheriff. Kiki joined the Drug Enforcement Administration in June of 1974. His first assignment as a Special Agent with DEA was in a familiar place - Calexico, California.
BOOK WHILE SPOTS ARE AVAILABLE
Year round Availbility
Photos for BMX Freestylers
Click the photo you want to preview to enlage.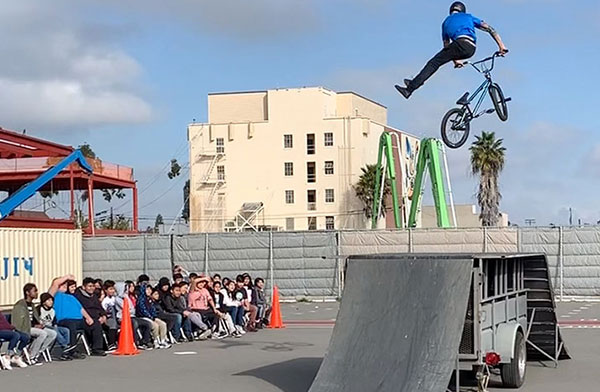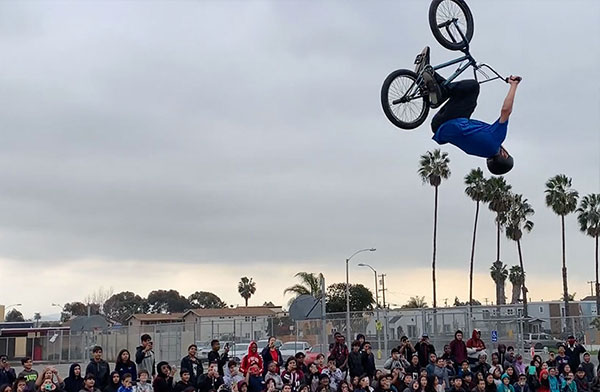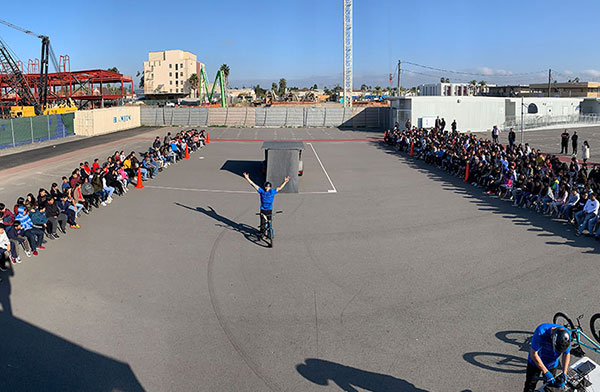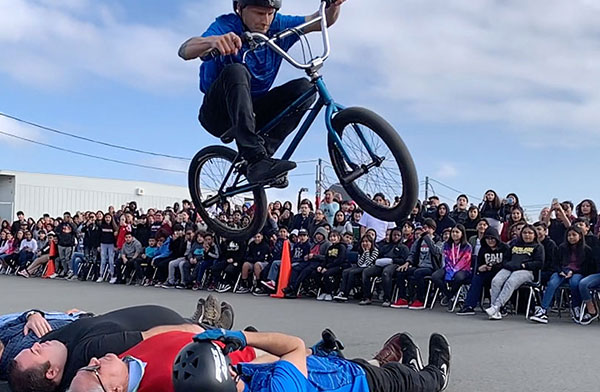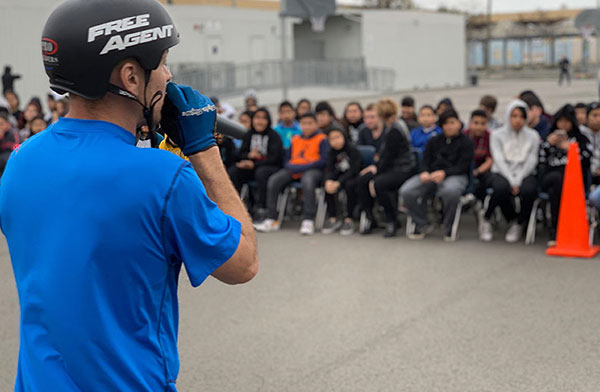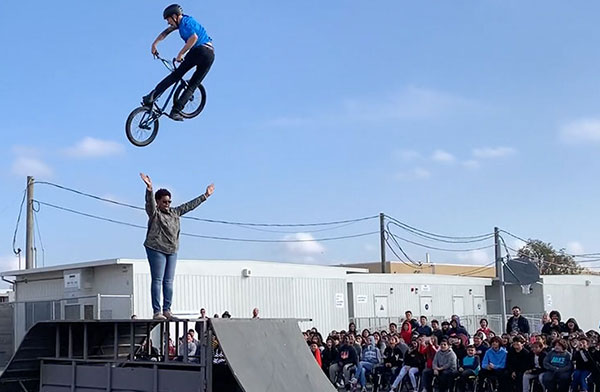 ×